The MeerKAT International GHz Tiered Extragalactic Exploration (MIGHTEE) is a MeerKAT Large Survey Project to create deep images of the extragalactic sky to explore the cosmic evolution of galaxies.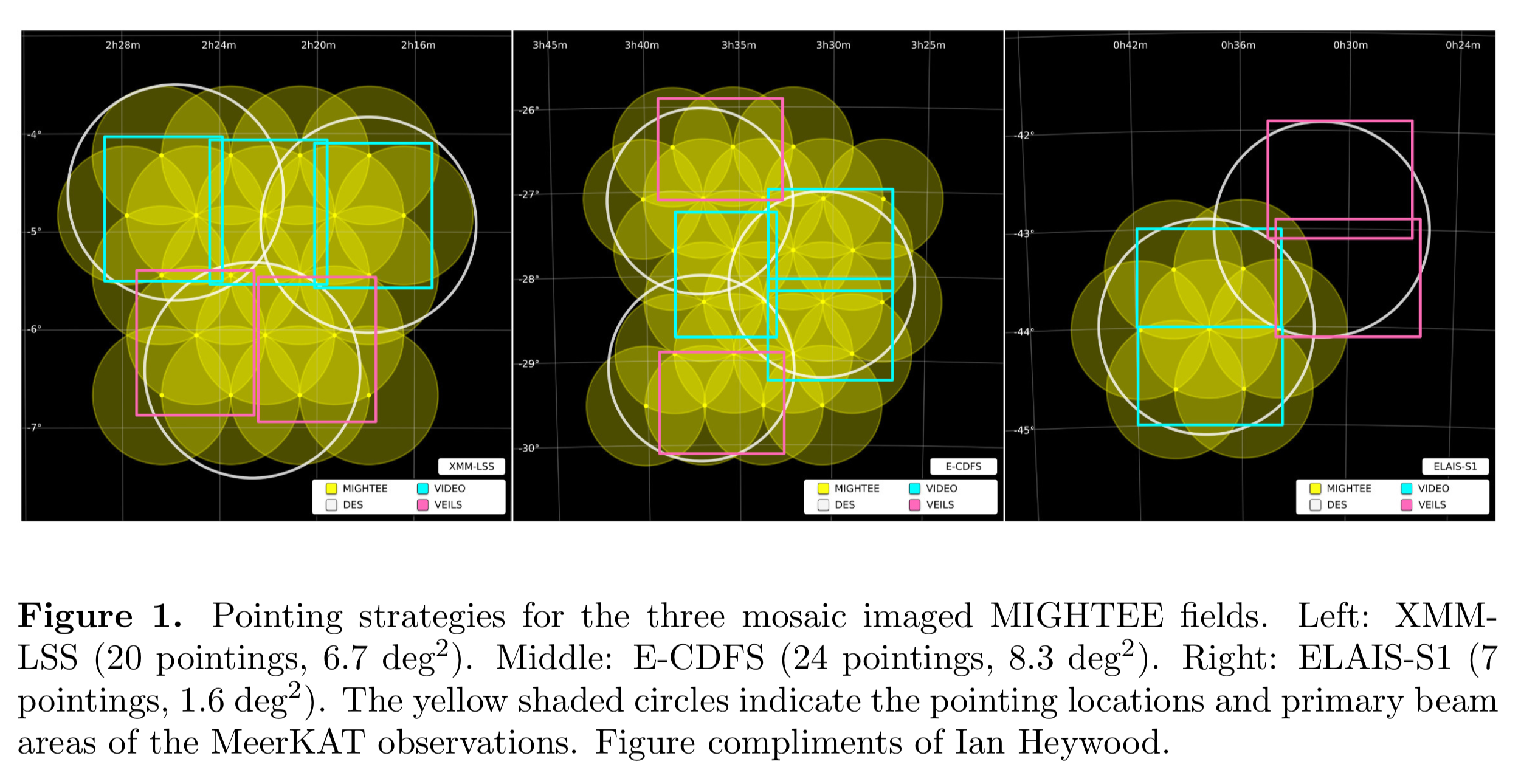 MIGHTEE is a radio continuum survey which will be conducted with the South African SKA pathfinder telescope MeerKAT. It aims to probe to much fainter flux densities (0.1–1 μJy beam−1 rms) than the EMU/WODAN surveys, over smaller areas (20deg2) at higher angular resolution, at an observing frequency of 950 MHz - 1.7 GHz.
The MIGHTEE survey strategy will follows a tiered approach both in survey area and in sensitivity, using the longer baselines to be able to probe below the confusion limit of the shorter baseline surveys such as EMU and WODAN.
The higher sensitivity and resolution will enable exploration of AGN, SF galaxies, and galaxy clusters from the EoR through to the present day.
Working Groups
MIGHTEE-Continuum: Continuum Science
chairs: Matt Jarvis, Kim McAlpine
MIGHTEE-HI: Atomic Hydrogen
chairs: Brad Frank, Natasha Maddox
Reference Articles
MIGHTEE: The MeerKAT International GHz Tiered Extragalactic Exploration, A Russ Taylor and Matt Jarvis 2017 IOP Conf. Ser.: Mater. Sci. Eng. 198 012014
The MeerKAT International GHz Tiered Extragalactic Exploration (MIGHTEE) Survey, Jarvis, M.; Taylor, R.; Agudo, I.; Allison, J. R.; Deane, R. P.; Frank, B.; Gupta, N.; Heywood, I.; Maddox, N.; McAlpine, K.; Santos, M.; Scaife, A. M. M.; Vaccari, M.; Zwart, J. T. L.; Adams, E.; Bacon, D. J.; Baker, A. J.; Bassett, B. A.; Best, P. N.; Beswick, R.; Blyth, S.; Brown, M. L.; Bruggen, M.; Cluver, M.; Colafrancesco, S.; Cotter, G.; Cress, C.; Davé, R.; Ferrari, C.; Hardcastle, M. J.; Hale, C. L.; Harrison, I.; Hatfield, P. W.; Klockner, H. R.; Kolwa, S.; Malefahlo, E.; Marubini, T.; Mauch, T.; Moodley, K.; Morganti, R.; Norris, R. P.; Peters, J. A.; Prandoni, I.; Prescott, M.; Oliver, S.; Oozeer, N.; Rottgering, H. J. A.; Seymour, N.; Simpson, C.; Smirnov, O.; Smith, D. J. B., MeerKAT Science: On the Pathway to the SKA. 25-27 May, 2016 Stellenbosch, South Africa. ISBN 978-0-620-80910-8