The International Astronomical Union (IAU) last week awarded Associate Director of the Institute for Data Intensive Astronomy (IDIA), Associate Professor Carolina Ödman, a special prize for her pioneering work in astronomy outreach, development and education. This award was given as part of the IAU XXX (30th) General Assembly, which took place in VIenna, Austria in the last two weeks of August 2018.
Speaking at the awards ceremony on Thursday night, IAU president-elect Professor Ewine F van Dishoeck described Odman's accomplishments as "many and unique":
"During the last 15 years Carolina has used her unique combination of creativity, intelligence, pragmatism and warm personal qualities to develop programmes that use astronomy to benefit society and humanity globally," she said.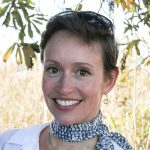 After receiving an astrophysics PhD in theoretical cosmology from Cambridge, UK in 2003, Odman joined Leiden University in Germany to initiate an educational outreach programme to inspire economically disadvantaged children with the beauty and size of the universe. In the years 2005 to 2010 Ödman grew this idea of "universe awareness" (UNAWE) into a thriving international programme with a multidisciplinary network of hundreds of astronomers, teachers and outreach experts, operating in more than 40 countries, reaching more than 200 000 children
"It was a global cornerstone of the International Year of Astronomy," said Dishoeck. "The success of UNAWE in these early years is in large part due to Dr Ödman's exceptional talents as well as her perseverance and hard work."
Shortly afterwards, Ödman emigrated to South Africa. Here she became director of academic development at the African Institute for Mathematical Sciences (AIMS) Next Einstein Initiative in Cape Town. In 2013 she took up the role of chief scientist at Thumbzup, an innovative South African company that pioneers the development of new technology for consumers. Recently she re-joined the astronomical community as associate professor at the University of the Western Cape and associate director, development and outreach at the Inter-university Initiative in Data-Intensive Astronomy (IDIA), a partnership of three South African universities (the universities of Cape Town, the Western Cape and Pretoria).
"It is clear that Carolina has been a pioneer in all aspects of education, outreach and development, and that she is a highly worthy recipient of this prize," said Dishoeck.
Says Ödman: "Throughout my career I have realised what a privilege it is to be scientifically educated, as it is science that underpins our technologically dominated society today, and as scientists we have the gift of understanding and building it. With such a privilege comes a will – that I gladly interpret as a responsibility – to share the benefits of such an education with those I am fortunate to meet along my journey."
Says director of IDIA Professor Russ Taylor: "We are proud to have such a passionate and accomplished member of the astronomy community at IDIA to raise awareness of the important role not only of our institute, but of the role astronomy can play in igniting the imagination and stimulating a love for science among South Africans."
Cape Town to host IAU General Assembly in 2024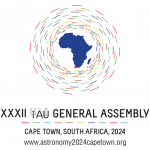 At the same event the IAU announced that the next General Assembly of the IAU will be hosted by Cape Town. This will be the first time in the 105 year history of the IAU that the General Assembly is to be hosted on the African continent.
Some coverage of the award:
Sharing Science: on the University of the Western Cape website.
Interview on the John Maytham show on Cape Talk:

Special IAU Prize Awarded to First Universe Awareness Project Manager on the Universe Awareness website.