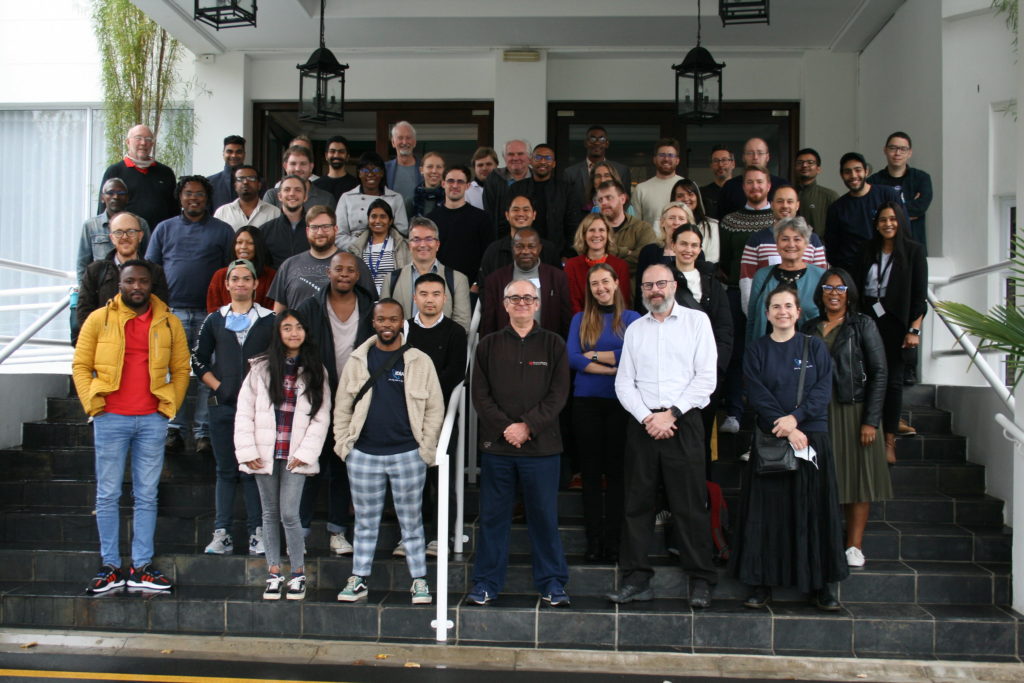 Senior Researchers
| | |
| --- | --- |
| Assoc. Prof. Sarah Blyth | UCT |
| Prof. Claude Carignan | UCT |
| Dr. Christopher Cleghorn | UP |
| Assoc. Prof. Roger Deane | UP/WITS |
| Prof. Thomas Jarrett | UCT |
| Prof. Renée Kraan-Korteweg | UCT |
| Assoc. Prof. Michelle Kuttel | UCT |
| Dr Michelle Lochner | UWC |
| Dr Edward Elson | UWC |
| Prof. Lerothodi Leeuw | UWC |
| Dr. Lucia Marchetti | UCT |
| Prof. Russ Taylor | UWC/UCT |
| Prof. Mario Santos | UWC |
| Prof. Rob Simmonds | UCT |
| Assoc. Prof. Mattia Vaccari | UWC |
| Prof. Patrick Woudt | UCT |
| Dr. Jack Radcliffe | UP |
| Dr. Kshitij Thorat | UP |
Postdoctoral Fellows
| | |
| --- | --- |
| Dr. Sally MacFarlane | UCT |
| Dr. Iniyan Natarajan | UP |
| Dr. Saurabh Paul | UWC |
| Dr. Matt Prescott | UWC |
| Dr. Srikrishna Sekhar | UCT |
| Dr. Franceso Cavallaro | UCT |
Former Postdoctoral Fellows
| | |
| --- | --- |
| Dr. Sthabile Kolwa | UCT |
| Dr. Luke Chamandy | UCT/UWC |
| Dr. Jonathan Zwart | UWC |
| Dr. Zara Randriamanakoto | UCT |
| Dr Fangxia An | UWC |
| Dr. Marcin Glowacki | UWC |
Students
PhD students
| | |
| --- | --- |
| Tariq Bletcher | UP |
| Lennart Heino | UCT |
| Fabio Luchsinger | UWC |
| Zhunaid Mohamed | UCT |
| Nikki Pekeur | UCT |
| Zubair Patel | UCT |
| Alex Sivitilli | UCT |
Masters Students
| | |
| --- | --- |
| Mustafa Alamin | UCT |
| Reikantseone Diretse | UCT |
| Boikhutso Kgoadi | UWC |
| Thato Manamela | UP |
| Sibusiso Mdhluli | UWC |
| Micaela Menegaldo | UP |
| Chaka Mofokeng | UWC |
| Boikhutso Mabala | UWC |
| Mfundo Mdwadube | UWC |
| Nkululeko Qwabe | UP |
| Laurisha Rampersad | UCT |
| Shilpa Ranchod | UP |
| Modisha Tladi | UWC |
| Heinrich van Deventer | UP |
| Fernando Ventura | UP |
| Leon Mtshweni | UP |
| Isaac Magolego | UP |
| Stefro Millard | UP |
| Jacques Smulders | UP |
| Hope Orabile Moloko | UCT |
| Michaela van Zyl | UCT |
Honours Students
| | |
| --- | --- |
| Willaim Rasakanya | UP |
| Graham Lawrie | UP |
| Nicholas van der Riet | UP |
| Stefro Millard | UP |
| Thumisang Tshikare | UCT |
| Orabile Hope Moloko | UCT |
Graduated Students
| | |
| --- | --- |
| Dr. Kerry Paterson | PhD |
| Nkateko Baloyi | Hons |
| Tumisang Tshikare | Hons |
| Lauren Hunt | MSc |
| Dr. Preshanth Jagannathan | PhD |
| Dr. Samuel Legodi | PhD |
| Jeremy Smith | MSc |
| Dr. Emmanuel Ocran | PhD |
IDIA Executive
| | | |
| --- | --- | --- |
| Prof. Russ Taylor | Director | UCT/UWC |
| Prof. Rob Simmonds | Associate Director, New Technology Initiatives | UCT |
| VACANT | Associate Director, Development and Outreach | UWC |
| Dr. Bradley Frank | Associate Director, Astronomy Operations | SARAO/UCT |
Staff
| | | |
| --- | --- | --- |
| Dr. Angus Comrie | Visualisation Developer | UCT |
| Dr. David Aikema | Data Scientist | UCT |
| Eslam Hussein | Data Scientist | UWC |
| Adrianna Pińska | Software Developer | UCT |
| Dr. Jordan Collier | Astronomy Support | UCT |
| Dane Kennedy | Bioinformatics Support | UCT |
| Kechil Kirkham | Project Management | UCT |
| Jeremi-Ernst Avenant | Senior Technical Specialist | UCT |
| Michael Currin | Senior Technical Specialist | UCT |
| Jeremy Smith | Operations Manager | UCT |
| Oarabile Hope Moloko | Junior Astronomy Support | UCT |
| Walter Silima | Data Analyst | UWC |
| Okkert Havenga | Data Analyst | UCT |
Administration
| | | |
| --- | --- | --- |
| Nicky Walker | IDIA Administrator | UCT |
| Lisa Hendricks | Development and Outreach Administrator | UWC |
Former Staff
| | |
| --- | --- |
| Verena Ras | Administrator (UWC) |
| Herbert Nguruwe | User Support (UWC) |
| Assoc. Prof. Michelle Cluver | Associate Director, Development and Outreach |
| Dr. Jasper Horrell | Associate Director, Operations |
| Annastine Aranjo | IDIA Secretary (UCT) |
| Mfundo Zwane | Development and Outreach Administrator (UWC) |
| Robin Hall | Senior Systems Administrator |
IN LOVING MEMORY OF PROFESSOR CAROLINA ÖDMAN-GOVENDER
Associate Director Development and Outreach – IDIA
It is with deep sadness that we mark the passing of Carolina Ödman-Govender on 15 November 2022.
Carolina was the Associate Director of IDIA for Development and Outreach and a dear friend to all at IDIA. As Associate Director she created and lead numerous initiatives in public engagement in science, outreach to communities of young scholars and researchers, societal development from astronomy and big data, and mentoring of students and colleagues. Her outstanding contributions were recognised both nationally by the award of the 2020/2021 National Science and Technology Forum Award for Science and Communications, and internationally by the 2020 International Science Council award for "Science for Development". Carolina's talent, passion for her work, tremendous energy and enthusiasm for life left an indelible legacy at IDIA.
Carolina had been fighting cancer for several years. Despite her illness she remained a constant source of inspiration and encouragement to her colleagues at IDIA and all who knew her. Carolina was an extraordinary colleague and friend. She leaves a big hole at IDIA and in our hearts. She will be deeply missed and remembered with great affection.
Our hearts and condolences go out to her husband Kevin Govender, and her children Xavier and Cyprian.