This is an outreach framework designed to promote diversity, inclusivity, relatable role-modeling while training a new generation of scientists in communication and leadership skills.
Below is a video presentation of the the cascade outreach model presented at the 2021 Conference of the South African Institute of Physics.
Globally, prominent scientists are often promoted as role models to young people. After winning some award for their science, thus recognised scientists are often propelled into the public eye, with the aim to inspire the younger generation to study science. There is little evidence however, that this has a real impact on young people's career choices and it is known that once-off interventions don't automatically have a lasting impact. It is known, however, that role modelling is very impactful. The cascade outreach framework is based on the premise that:
Role models need to be relatable to those they engage, much more than they need to be considered accomplished by their peers in the field.
By taking a people-centered approach, we increase the pool and the diversity of role models, train and give outreach experience to young scientists as they become role models to their younger peers, and lighten the load placed on well-established minority scientists who are disproportionately asked to represent their science as efforts are made to diversify the field. This is particularly relevant in the South African context, where there is a need to transform science and make it more inclusive and representative of the people.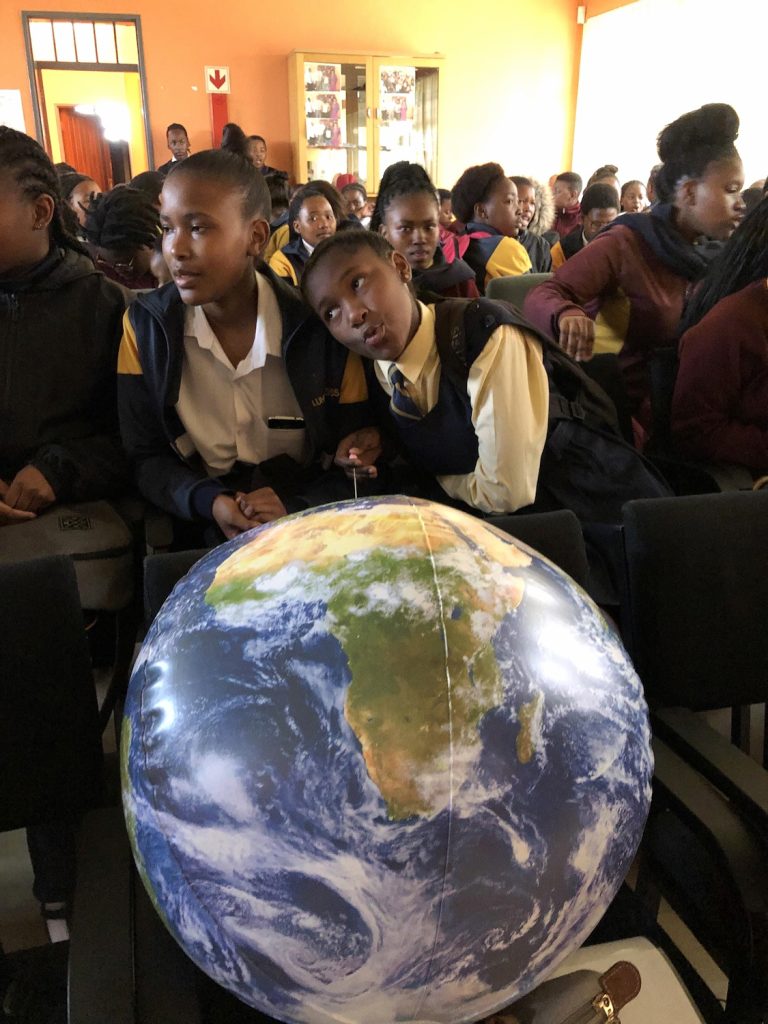 Challenges
These are some of the challenges faced by South African science that are addressed by the Cascade Outreach framework.
The framework is applicable far beyond just IDIA and we invite scientific institutions to adopt it in their outreach work.
Representation
The demographic distribution of scientific leadership in South Africa does not represent the population, making it difficult for young people to identify with scientists.
Science as a viable career
Lack of knowledge of career opportunities in science makes it difficult for families to support young people's interest in science and nudges them towards professional choices that are seen to lead to lucrative job opportunities, such as medicine, accounting and law.
Minority-induced imposter syndrome
Members from under-respresented groups are more likely to feel a strong imposter syndrome, which leads them to believe that they do not belong and that they cannot achieve or perform as well as the majority group members. This is compounded at the intersection of gender, race, culture and language.
Language
The language of science is English. Science can also be taught in Afrikaans. Nearly 80% of the South African population is Black African but only 4,4% of Black Africans speak English as 1st language. This represents a huge barrier to access.
Sustainability
Single interventions in communities have a lower impact than sustained and continuous interaction. Therefore a limited pool of role models necessarily leads to a limited impact
South Africa: A double opportunity
Top-down Opportunity
South Africa has chosen to invest in astronomy, making the most of its geographical advantage, and based on the belief that this would help develop the country. For this, we strive to develop and nurture students in a competitive field of science and deliver, in human capital, an invaluable return on the country's investment.
Bottom-up Opportunity
Most graduate students are first generation students. Often, they come from modest backgrounds and recognise the chain of events that led to their becoming scientists. They are eager to give back and therefore, most outreach is spontaneous. We thus adopt a supportive approach and help our students become the role models they already are, sometimes without suspecting it.
Benefits
Communications skills
When involved in communicating their science to different audiences early in their careers, researchers develop valuable skills that will serve them throughout their career.
Teaching experience
Teacher is most likely a role any South African scientist will have at one point or another in their career. Therefore our young scientists acquire valuable experience.
Scientific language development
Our young role models speak to their audiences in their own languages. While scientific vocabulary may not be readily available, the interaction with younger peers gives context to the English terms used at school and helps with learning and understanding.
Schooling support
The South African education system is known for its weak outcomes in mathematics and science. Our role models engage actively with the students and help them learn to learn, when the formal education system may fail at doing so.
Awareness of opportunities
Seeing is believing. Unless young people see scientists who look like them, talk like them, and come from the same background as them, they struggle to see themselves in scientific professions and if passionate about science, they won't know where to go.
Unless families see successful scientists who they would like their child to emulate, it is difficult for them to support a child's interests
Transformation
Making the scientific community in South Africa representative of the people is a question of numbers and of higher level positions. Role models emerge as natural leaders whose impact goes beyond those they inspire or their own growth.
Diversity
The multiplier effect of the cascade model presents young people with a diverse and representative group of successful young scientists and professionals that they can relate to through more than an interest in science. Every role model's personal journey with its successes and challenges is inspiring. this is key to relatability.
Implementations
Here are some ways in which you can implement the Cascade Outreach Framework:
Established researchers
Always take a younger researchers along to events and share their speaking time, or pass on the opportunity all together. You are the headliner, but your student will steal the show!
Global exposure
If you have a request from international media, feature your students rather than yourselves
High school mentorship
Give opportunities to graduate students to go to their home high schools and mentor learners. This comes in the form of time off, a little bit of funding to print some outreach resources, maybe, and make sure this counts positively towards the students assessments.
Informal networking opportunities, e.g. women in science
Whether during a conference/workshop or during the academic year, create safe spaces where undergraduates are able to network with graduates, junior lecturers and others, e.g. entrepreneurs, in an informal setting, where relationships are not of authority and personal journeys are shared.
Science Summer Schools
Support students who want to run science and mathematics support initiatives during school holidays. This can come in the form of moderate amounts of funding that tend to enable a lot of good work. Again, making sure this counts towards the students' assessments.
Teaching Assistantships for undergraduates supporting feeder school programmes
Undergraduates can grow on a personal level by being put in a position of responsibility. If your institution has support programmes, such as AP Physics, enrolling undergraduates who show potential as teaching assistants can accelerate their growth and they will have a strong impact on the learners coming in for the programme.