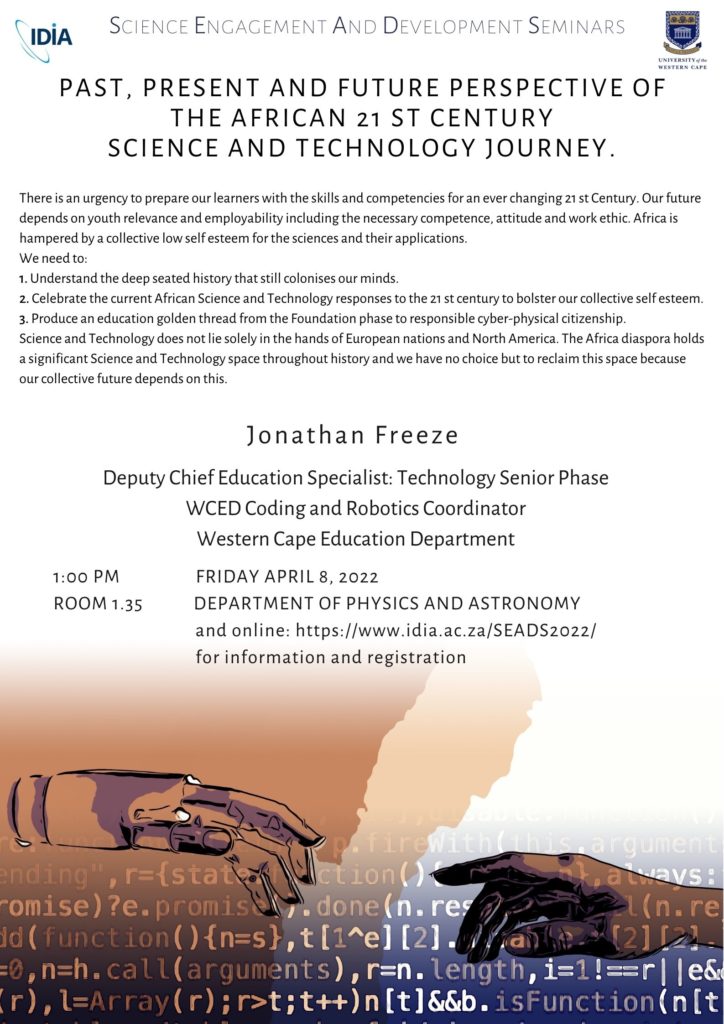 On April 8, 2022, we are glad to welcome Mr. Jonathan Freese from the Western Cape Education Department. Mr. Freese is Deputy Chief Education Specialist: Technology Senior Phase and WCED Coding and Robotics Coordinator. His talk, entitled "Past, Present and Future Perspective of the African 21st Century Science and Technology" will describe some of the work he is doing, among other things. His abstract reads:
There is an urgency to prepare our learners with the skills and competencies for an ever changing 21 st Century. Our future depends on youth relevance and employability including the necessary competence, attitude and work ethic. Africa is hampered by a collective low self esteem for the sciences and their applications.
We need to:
Understand the deep seated history that still colonises our minds.
Celebrate the current African Science and Technology responses to the 21 st century to bolster our collective self esteem.
Produce an education golden thread from the Foundation phase to responsible cyber-physical citizenship.
Science and Technology does not lie solely in the hands of European nations and North America. The Africa diaspora holds a significant Science and Technology space throughout history and we have no choice but to reclaim this space because our collective future depends on this.
Here is a recording of the talk: